December 17, 2021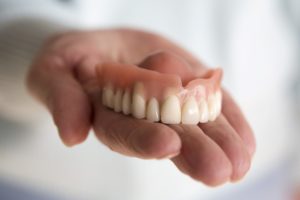 If you've lost all your teeth, dentures are a convenient, effective method to rebuild a beautiful, functional smile. You might believe your new set of teeth gets you off the hook for routine dental appointments, but you still need to see your dentist. Although you can't get cavities, dental checkups with dentures are crucial. Here are 5 reasons you'll want to visit your dentist to protect your health and investment.
1. Cavities Aren't the Only Danger
Your dental health involves more than just your teeth, which means you're still at risk of various problems that can affect your smile, health, and quality of life. It's best to visit your dentist at least once a year. They can monitor your smile for certain complications, like gum irritation, bone loss, or oral cancer.
2. Your Dentures Will Need Adjusting
Tooth loss causes your jawbone to shrink because it isn't being stimulated by the tooth roots. Over time, the hard and soft tissues in your mouth will change shape. Unfortunately, your dentures won't adapt to these changes, which can cause them to fit poorly. Besides making it uncomfortable to eat, it can also lead to sores, infection, and bone loss. Ill-fitting dentures are more likely to break from uneven pressure distribution, so you'll need a replacement sooner. Routine checkups allow your dentist to make the necessary adjustments to keep your denture snuggly in place for a stable smile that can last for many years.
3. You May Be at Risk of Oral Cancer
Many people associate oral cancer with smoking; however, anyone can be at risk. Unfortunately, older people with tooth loss can have a greater likeliness of oral cancer. It's easy for concerning tissues to be overlooked because they are often covered by the denture. It's believed dentists can find up to 80% of new cases early through routine oral cancer screenings.
4. Your Health Relies on Your Dentures
Your dentures are important for more than a beautiful smile. They allow you to eat a variety of foods to stay healthy and nourished. If your dentures cause sores or breaks, it can be impossible to eat certain foods. The restrictions on your diet can cause nutritional deficiencies that harm your health.
5. Promote the Lifespan of Your Dentures
Durable materials allow dentures to last for 5 to 7 years before needing to be replaced, but various factors affect their lifespan. Besides caring for them at home, routine dental visits for cleanings and adjustments will ensure they continue to serve you for years.
Don't risk losing your new smile. Commit to visiting your dentist at least annually to keep your mouth healthy and your dentures looking great.
About Dr. Cooper Owens
Dr. Owens earned his dental degree from the University of the Pacific School of Dentistry before joining the military, serving as a dentist. Today, he's committed to providing advanced dental services, like the latest tooth loss solutions. If you need a checkup, or you're ready to replace your missing teeth, contact our office today for an appointment.
Comments Off

on 5 Reasons You Need Dental Checkups with Dentures
No Comments
No comments yet.
RSS feed for comments on this post.
Sorry, the comment form is closed at this time.