Emergency Dentist — Geneva, OH
Urgent Dental Care Is Just a Call Away
Do you have a dental emergency plan in place? If not, we're ready to give you an easy one: just call Dr. Cooper Owens. Severe toothaches, cracked teeth, and even knocked-out teeth can happen when you least expect them to. With us, the fast, professional help you need is just a phone call away. When you reach out to us, we'll work you into our schedule so we're able to see you without delay and get to work on fixing your problem. One of the unique aspects of our dental office is we answer our phones 24/7 and are always available for our patients to provide top-notch emergency dentistry in Geneva!
Why Choose Cooper Owens, DDS for Emergency Dental Care?
Same-Day Appointments Available
Multiple Sedation Options Offered
Highly Experienced Dental Team
What to Do in a Dental Emergency
Call our office right away. We'll get you scheduled for a same-day appointment to ensure you get the prompt relief you deserve. Over the phone, we'll explain how you can handle your situation in the meantime.
See Dr. Owens for an exam. An oral examination is necessary to determine the best course of action to get your smile back on the right track. Dr. Owens will explain your options and work with you to create a custom treatment plan.
Get the care you need. Once a treatment plan is in place, we'll get to work right away to restore your oral health. Our team will do everything possible to ensure you're comfortable the entire time!
The Most Common Dental Emergencies
Having an emergency dentist on speed-dial is great, but what should you do in the meantime before you're able to reach our dental office? On the phone, our team will give you plenty of first-aid tips to help you take control of the situation and minimize any pain. Below, you'll find a few more tips on how to handle some of the most common dental emergencies.
Understanding the Cost of Dental Emergencies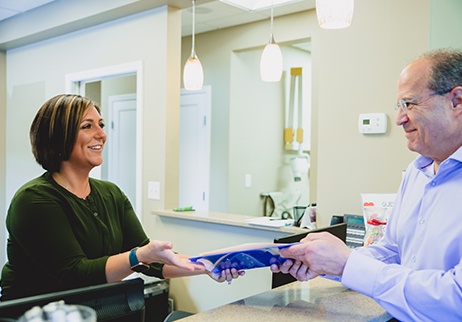 We can't determine what it will cost to treat a specific dental emergency until we see a patient in person. However, seeking out treatment quickly is always the best approach, as this allows us to address a problem before it becomes more complicated and requires extensive care. And, we're happy to work with several different dental insurance plans to make this type of care easily affordable and accessible for Geneva families.
How to Prevent Dental Emergencies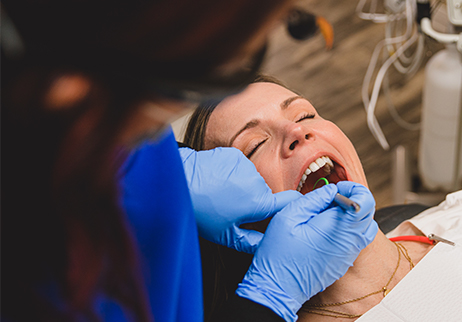 Thankfully, preventing most dental emergencies is relatively simple. Just make sure you and your family remember to:
Always wear a protective mouthguard whenever you play sports
Avoid chewing on hard, non-food items like ice, pens, pencils, fingernails, etc.
Be careful when eating particularly hard or sticky foods
Always grab the scissors instead of using your teeth to open a package
Maintain daily brushing and flossing to keep the teeth strong and resistant to breakage and infections
Dental Emergency FAQs
If you ever find yourself with a dental emergency in Geneva, know that Dr. Owens and our team are always here to help you enjoy a pain-free, healthy smile again. We've seen firsthand how stressful toothaches, broken teeth, and other dental emergencies can be, so we've gathered the answers to several frequently asked questions below. That way, you can manage the situation more effectively. But if you still need more information, you're welcome to give us a call – after all, we're always available to provide the urgent dental care you need!
Will My Toothache Go Away on Its Own?
Generally, toothaches do not get better on their own. In fact, they often worsen the longer you go without seeking treatment, as teeth cannot repair themselves once they have become damaged or infected.
For this reason, it's best to call us if you've been experiencing persistent tooth pain. There are many possible causes of toothaches, and Dr. Owens can determine the precise one after examining your mouth. From there, we can move forward with the appropriate course of treatment.
How Should I Sleep with Tooth Pain?
If you're dealing with a toothache at night, it's important to elevate your head before going to sleep. Otherwise, blood could rush to your head and actually intensify your pain. As far as soothing the pain enough to fall asleep, take over-the-counter pain medications as needed. You could also use a cold compress in ten-minute intervals. Lastly, refrain from consuming hot, cold, or acidic foods and drinks for a few hours before bed to avoid aggravating your irritated tooth.
Should I Visit the Emergency Room First for Dental Emergencies?
More often than not, no! As a highly experienced emergency dentist in Geneva, Dr. Owens is well-equipped to address specific dental problems quickly and efficiently. On the other hand, most emergency rooms, do not have a trained dental professional on staff, meaning they're often unable to treat the underlying cause of your pain.
The only situations in which it's best to visit the emergency room for dental emergencies are if:
Your jaw is broken or dislocated.
You're experiencing a deep laceration or heavy bleeding that won't case, even after applying firm pressure to the area for 15 minutes.
You're having trouble breathing or swallowing due to swelling caused by an infection.