At-Home Teeth Whitening – Geneva, OH
Get a Brighter Smile in Just Two Weeks
Has your love of coffee or tea discolored your teeth over the years? Have bad dental habits or tobacco use stained your smile? Nobody wants a yellow, gray, or brown tint to their pearly whites! Thankfully, Dr. Cooper Owens can help you get a brighter smile in just two weeks with an at-home teeth whitening kit. These personalized kits can help you achieve dazzling, professional results from the comfort of home! To see if you're a good candidate for at-home teeth whitening, don't hesitate to give us a call today!
Why Choose Dr. Cooper Owens, DDS For At-Home Teeth Whitening?
#1 We Use Trusted Products for Reliable and Safe Results
#2 Late & Saturday Appointments Available for Optimal Convenience
#3 Honest Fees & Flexible Payment Options
What Causes Tooth Discoloration?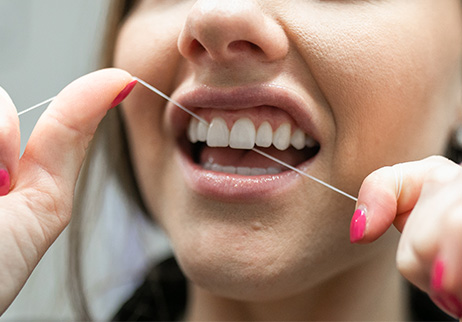 Generally speaking, there are two types of teeth stains: extrinsic and intrinsic.
Extrinsic stains appear on the surface of teeth in the outermost layers of enamel. These types of stains are usually caused by dark-colored foods and drinks, tobacco use, or poor oral hygiene. While extrinsic stains can sometimes be removed with whitening toothpaste or a dental cleaning, they respond very well to professional teeth whitening treatments like our take-home kids.
On the other hand, intrinsic stains occur much deeper in the enamel. These are much more difficult to lighten, as the staining particles have penetrated the enamel and reached the underlying layer called the dentin. Intrinsic stains may be the result of overexposure to fluoride in childhood or the antibiotic tetracycline. Thankfully, while intrinsic stains are stubborn to remove, our professional-grade products can typically erase them from your smile
How Does At-Home Teeth Whitening Work?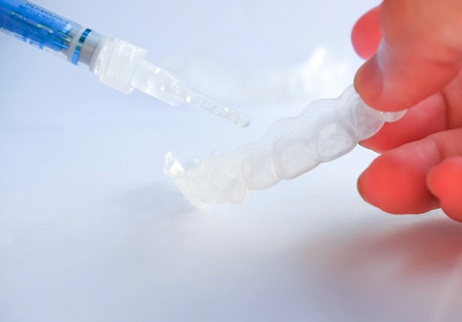 If Dr. Owens agrees that you're a good candidate for at-home teeth whitening, we'll take impressions of your teeth to create custom whitening trays. We'll show you how to use them properly, answer any questions you may have, then send you home with your trays and personalized doses of professional whitening gel.
Once a day, you'll fill the trays with the whitening gel and wear them for a set amount of time. You can do this whenever is most convenient for you, like while watching TV at the end of the day or doing chores. You'll begin to see results within a few days, and after about two weeks of this routine, you'll have a dazzling smile that you'll be proud to show off!
How Do I Keep My Smile Bright After Teeth Whitening?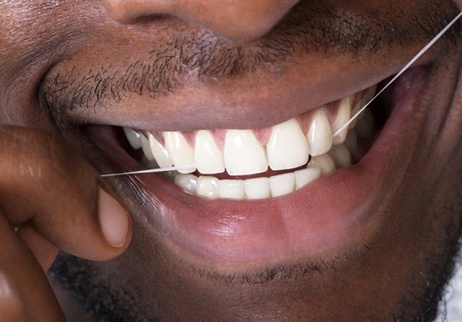 With the right care, the results of your at-home teeth whitening can last for a very long time. Make sure you keep your pearly whites sparkling for as long as possible by:
Brushing your teeth for two minutes twice a day
Flossing daily and avoiding mouthwash that contains alcohol
Refraining from using tobacco products and limiting your alcohol consumption
Reducing the amount of dark-colored foods and drinks you consume
Visiting us twice a year for routine checkups and cleanings
Ready to get the brilliant smile you deserve? Give us a call today to schedule your consultation!
Teeth Whitening FAQs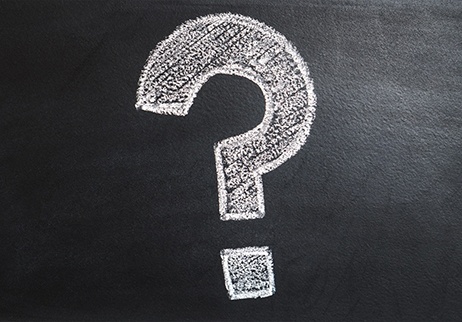 You don't have to hide a discolored smile any longer with teeth whitening in Geneva. Modern whitening systems are safer and more effective than ever; however, it's normal to have a few concerns. Don't worry, your cosmetic dentist, Dr. Owens, will explain everything during your whitening consultation. Here are the answers to a few frequently asked questions to determine if it's the right solution for you.
Does teeth whitening hurt?
Several decades ago, whitening treatments were known to cause tooth sensitivity, but it's a concern of the past. Cosmetic upgrades have made whitening solutions gentler on the teeth while offering drastic results. You can avoid any potential discomfort by visiting a dentist to ensure your smile is healthy before using any whitening treatments, including OTC products. It's also important to space out whitening products to avoid sensitive teeth. If you're prone to discomfort, let Dr. Owens know because he can customize your whitening treatment to lessen the risk of discomfort. He may also recommend using desensitizing toothpaste. You'll also want to avoid any hot or cold foods and drinks to prevent uncomfortable sensations.
Is teeth whitening permanent?
Unfortunately, teeth whitening isn't permanent; however, various factors affect the longevity of your results, which can last for a few months to many years. You can protect your investment by maintaining a solid oral hygiene routine at home. Brush your teeth at least twice daily using a soft-bristled toothbrush and nonabrasive toothpaste. Don't forget to floss between each tooth before going to bed. You'll also want to skip anything that can lead to new stains, like smoking or drinking coffee frequently. Besides caring for your smile at home, visit your dentist every 6 months for a cleaning and checkup. If your results begin to fade, your cosmetic dentist in Geneva can provide you with a touch-up kit.
Am I a candidate for teeth whitening?
Although whitening treatments are safe, they aren't right for everyone. Stains can be caused by various factors, like age, genetics, or poor oral hygiene. Depending on the cause, you may be a candidate for teeth whitening. Your oral health is also important for determining if whitening systems are right for you. Dr. Owens will examine your smile to look for any concerns, like untreated decay or gum disease. He will also learn more about your goals to ensure teeth whitening can provide the improvement you desire. Based on the results of the examination, you may need a little prep-work, like a filling or periodontal therapy. Dr. Owens will create the personalized strategy you need to achieve a vibrant, beautiful smile.
Does teeth whitening damage the enamel?
Your enamel is the hardest substance in your body, but it can't regenerate. There's no reason to worry about enamel loss. When used under the supervision of a dental professional and according to the manufacturer's guidelines, whitening treatments are safe and will not harm your enamel. You can preserve your natural smile by spacing out whitening treatments and skipping risky DIY home remedies, like charcoal toothpaste.