Implant Dentures – Geneva, OH
Transform Your Denture with Modern Dental Implants
While a denture can be quite effective at replacing several or even all missing teeth, they only address half the problem. With an implant denture from our dentist, Dr. Owens, you can make your denture truly stable and reliable for many years to come and experience the benefits that dental implants have to offer, including root replacement. Call our office to get started!
Why Choose Dr. Cooper Owens for Implant Dentures?
Completes Every Step of Treatment in One Location
Highly Personalized Restorations for Best Esthetics
Modern Dental Planning Technology Utilized
How Do Implant Dentures Work?
In contrast to traditional dentures, which rely on the shape of your mouth and natural suction to stay in place, implant dentures attach to a series of implants surgically placed throughout the jaw. Implant dentures typically snap in place, which means you can easily take it out for cleaning.
Am I A Candidate for Implant Dentures?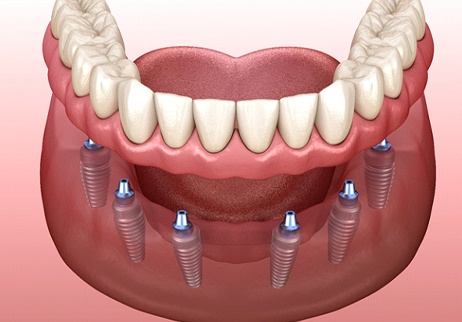 If you're considering implant dentures, the first thing you should do next is schedule an in-person consultation. The good news is more patients are eligible for dental implants than ever before. However, you'll still need to complete a detailed evaluation of your current smile and bone health before dental implants can be placed with confidence.
The Implant Dentures Procedure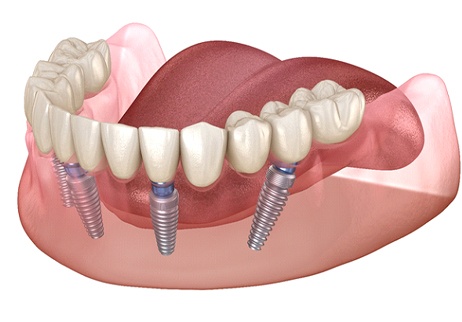 After the planning phase of treatment is complete, our office will schedule you for dental implant surgery, which can be done right here in our office! This involves making a series of small incisions in your gum tissue, creating tiny holes where the implants will be housed, and placing the implants into the jaw.
From there, the gum tissue is stitched close and given time to heal. This process (known as osseointegration) takes about four to six months. During this healing phase, you'll wear a temporary denture, so you can keep your smile while you wait for your permanent version!
Benefits Of Combining Dentures & Dental Implants
A significantly improved biting strength
Rejuvenated bone tissue and improved facial esthetics
Thirty years or longer of reliable use
No more slipping and sliding of your tooth replacement
A natural-looking (and feeling) denture
Denture FAQs
If you're receiving a denture for the first time, you may have many questions regarding their use or what you can expect from treatment. Dr. Owens wants to do everything possible to help you get used to your new denture, which is precisely why we've included an informative section dedicated to the most common questions the practice receives. Of course, feel free to call us directly if your question isn't listed or you aren't sure if you need to schedule an appointment to address your specific concern.
How long should I wear my denture for the first time?
Your mouth will need time to adjust to your new denture, so it's important to keep wearing it as much as you can throughout the day. However, you should also remove it at night and well before you go to bed as this will prevent excessive irritation and soreness.
When should I visit to address problems with my denture?
Most of your daily activities should be easily doable after about 30 days of wearing and getting adjusted to your denture. If you still experience discomfort or difficulty wearing your dentures after a month, call our office and we'll see what we can do to help.
How often should my dentures be repaired/relined?
On average, denture relines are performed once every 2 years. When properly maintained, dentures should only need to be replaced every 7 to 10 years. Relines improve the overall fit of your denture without having to make any major repairs or replacing the denture outright. Of course, if you feel that your denture doesn't fit quite right before two years is up, you should give our office a call.
Is it okay to sleep in my denture?
No. Leaving your dentures in all the time, especially when you go to sleep, only allows bacteria buildup to develop inside your mouth and on your denture. This can cause bad breath, but in more severe cases it can even lead to an oral infection. Instead, place them in a dedicated denture cleanser or plain water when not in use. This will also work to keep them from drying out and warping or becoming worn-down too quickly.
What cleaning products are safe to use for a denture?
A mild dishwashing liquid or hand soap can be used to safely clean dentures. We also recommend soaking them in dedicated, over-the-counter denture cleansers, which are easy to find in major grocery stores and pharmacies. We do not recommend using toothpaste or household cleaners (such as bleach) as they can often be too abrasive for dentures. Keep in mind that you should still be using fluoridated toothpaste to keep your mouth and any remaining teeth clean.
Should I consider implant dentures?
If you're looking for a way to make your denture more stable, implant dentures may be an option worth considering. Not only can our office provide this service, but we're happy to keep every phase of treatment all under one roof. Simply give our office a call to see if you're eligible for dental implant placement.