Dental Bridges – Geneva, OH
Reliable, Long-Lasting Tooth Replacement
While the loss of one or two teeth might not seem like a big deal at first, even a small gap in your smile can lead to serious consequences over time. For example, the nearby teeth might drift out of place, leading to a misaligned bite. If you lose a bottom tooth, the one above it may over-erupt due to the lack of opposing forces. There are also aesthetic considerations to take into account, especially if the lost tooth is toward the front of the mouth. How can you save yourself from these issues? A dental bridge may be an appropriate restorative treatment.
Why Choose Cooper Owens DDS for Dental Bridges?
Carefully Designed for Aesthetics and Function
Modern Technology for Outstanding Results
Convenient Appointment Times
What Is a Dental Bridge?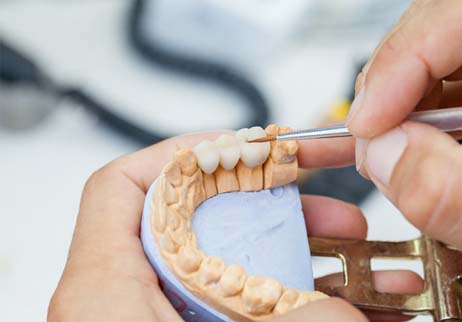 A dental bridge is a form of tooth replacement, which usually replaces 1 – 3 missing teeth in a row.
There are a few different types. It consists of three units: a crown on each end (which get placed on the teeth next to the empty space), and a pontic (artificial tooth) in the middle, which serves to "bridge" the gap. Some bridges have multiple pontics between the crowns. A cantilever bridge is similar to a traditional bridge, but it is supported by a crown on only one side.
Many patients are candidates for an implant-supported bridge, which is a type of prosthetic that is supported by prosthetic tooth roots instead of crowns on the natural teeth. Implant-supported bridges tend to be stronger and longer-lasting than non-implant alternatives.
The Dental Bridge Treatment Process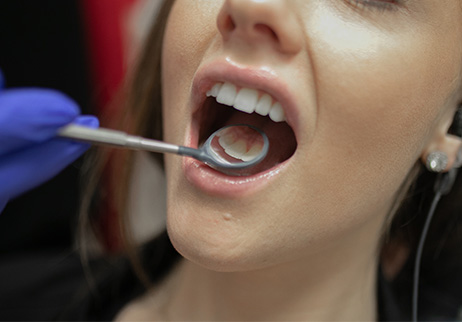 If you are getting a traditional fixed bridge, you can expect your treatment process to take place across at least two appointments. At the first appointment, the abutment teeth (the ones that will support the bridge) are modified so they will fit well beneath their crowns. Then, we'll use our digital impression scanner to create a detailed, three-dimensional representation of your mouth. Using that impression, we'll design your custom bridge. You'll wear a temporary restoration while a laboratory fabricates your permanent one. When the permanent bridge is ready, your dentist will verify its fit before permanently attaching it to your teeth.
The process for an implant-supported bridge is somewhat longer and more complex, but most patients believe it is more than worth the investment of time.
Benefits of Dental Bridges
Traditional, non-implant bridges offer some noteworthy advantages:
With proper care, they have the potential to last for 10 years or longer.
When they are made out of high-quality dental porcelain, they can look quite natural.
They serve as placeholders to prevent dental drift.
They are relatively low-cost, and dental insurance usually covers about half of their price.
They are sturdy enough to stand up to a wide variety of foods.
Implant-supported bridges offer even greater advantages. For example, they usually do not require that any of the natural teeth be modified. They also offer significant bone health benefits for the jaw.
Would you like to learn more about dental bridges, or do you believe you need one? Contact us today to schedule your consultation.