Preventive Dentistry – Geneva, OH
How We Keep Geneva Cavity-Free
It's easier than ever to avoid cavities and gum disease for years at a time—all a person has to do is brush and floss consistently at home as well as attend regular preventive appointments at the dentist! Thanks to our thorough cleanings and detailed exams, we'll make sure you and your loved ones don't have to deal with pesky dental problems or take the time to fix them in the future. With us, we'll give everyone you care about a beautiful set of teeth they never have to worry about! To schedule you or your child's next checkup, contact us today for preventive dentistry in Geneva, OH.
Why Choose Cooper Owens DDS for Preventive Dentistry?
Dentist with Decades of Experience
Modern Technology Makes Appointments Fast & Comfortable
Happy to Serve the Entire Family!
Dental Checkups & Teeth Cleanings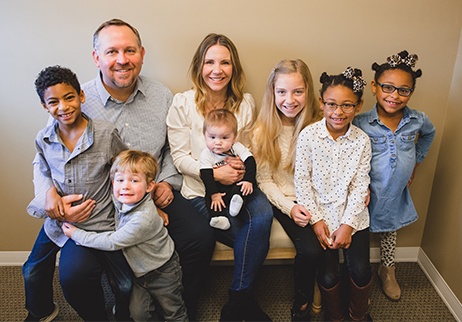 Whether someone is young or just young at heart, we recommend that they get at least two checkups and cleanings each year. Not only do these appointments allow our hygienist to remove plaque and tartar from the hard-to-reach parts of a person's mouth, but Dr. Owens also has the chance to catch cavities or infections early. This way, he can treat them before they become major headaches down the line, saving patients time and money on their dental care.
Oral Cancer Screening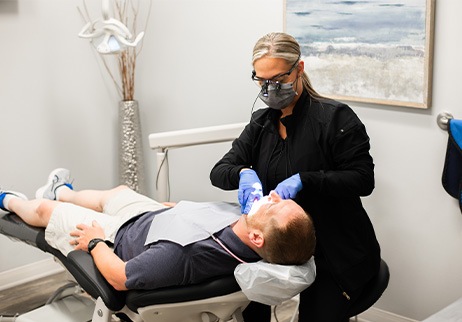 While cavities and gum disease are serious issues, we also take a few minutes during each checkup to screen our patients for oral cancer. Oral cancer is relatively simple to treat early on, but most patients aren't able to notice the initial symptoms. That's where our team's trained eyes come into play. We're able to spot even the slightest indications of cancer, and then we can help a patient get a proper diagnosis and begin treatment (if needed) right away to give them the best possible chance of recovery.
Children's Dentistry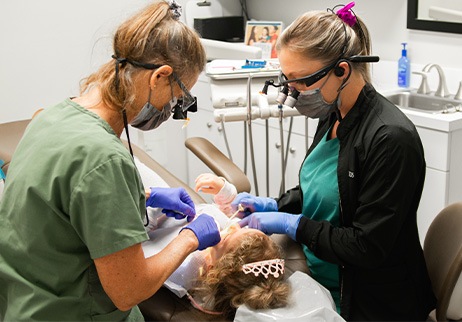 As a proud parent themselves, Dr. Owens is eager to welcome the youngest members of your family into our dental office. In addition to giving them gentle cleanings and exams, we'll also help your child understand the importance of oral hygiene and teach them the best techniques to take care of their teeth at home. And of course, we'll always go the extra mile to ensure your favorite smile feels perfectly comfortable at every appointment.
Learn About Children's Dentistry

Dental Sealants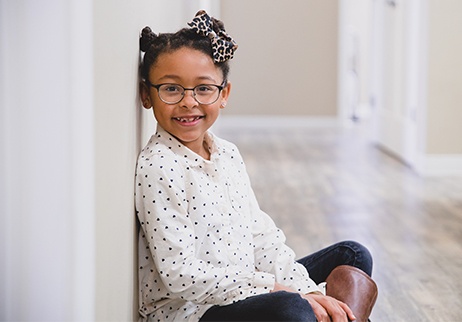 This treatment involves us literally placing a thin, invisible barrier over the most vulnerable teeth to prevent them from developing cavities. We simply paint on a layer of dental plastic that stops cavity-causing bacteria and plaque from settling on the enamel. We primarily use sealants to protect the back teeth because that's where most people get cavities first. They are ideal for children who are still learning to brush as well as adults who are more prone to developing tooth decay.
Fluoride Treatment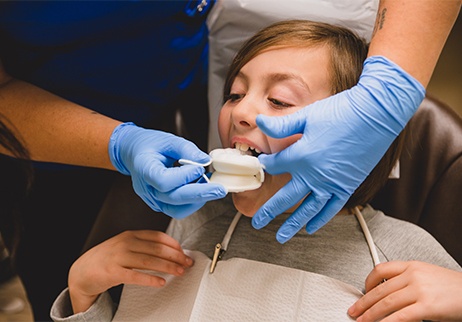 If you look at your toothpaste right now, we bet that it has fluoride added to it. That's because when this mineral comes in contact with the teeth, it actually fortifies the enamel and makes someone less likely to develop cavities. That's why, at the end of every cleaning, we coat our patients' teeth with a concentrated fluoride solution. This is much more potent than anything you'll find in stores. It gives our patients a tremendous boost of cavity protection that will last all the way until their next cleaning.
Nightguards for Bruxism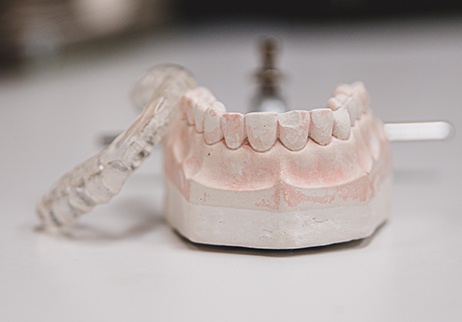 Bruxism, or nighttime teeth grinding and jaw clenching, is a condition that affects up to 1 in 3 Americans every night, primarily women. Over time, it can wear down the teeth, strain the jaw, and even cause frequent headaches and migraines! Fortunately, a custom-made nightguard can stop all of these undesirable symptoms. This is a small mouthguard that a patient wears to bed, and it prevents the teeth from coming together, keeping them safe and whole.