November 30, 2021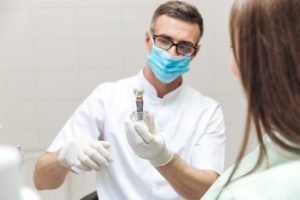 If you've lost a tooth or two over the years, a dental implant can restore your beautiful smile. It is unlike any other dental prosthetic because it recreates the entire tooth, including the root. As a result, you'll require oral surgery to place a post in your jawbone to support the restoration. Your new smile can last for a lifetime with the proper care to enjoy a long-term investment. You don't want anything to compromise the success of your procedure. Here are 5 things you do NOT want to do after your dental implant surgery.
1. Smoke
The overall success of the dental implant procedure relies on your jawbone fusing to the post through a process called osseointegration. Tobacco in any form can affect the body's ability to heal and fight infections. It can be difficult to kick the habit, but it's important for your recovery to stop smoking for a few months until your mouth has healed.
2. Rinse Aggressively
You need to keep your mouth clean; however, don't rinse aggressively or excessively for a few days. Rinsing your mouth too often or vigorously can disturb the healing tissues, which can cause bleeding. Don't stop rinsing your mouthwash. Instead, gently swish it around and let the liquid flow out of your mouth into the sink.
3. Strenuous Exercise
Everyone wants to stay fit, but you'll have to adjust your exercise routine for a while. Strenuous activity can increase blood flow, which can cause the surgical site to bleed. Your dentist will set certain restrictions on your physical activity based on your healing progression. It's best to rest until you're given the go-ahead from your dentist to hit the gym.
4. Hot or Hard Foods
You can expect your mouth to be sore for a few days following your procedure, so you'll want to keep tacos off the menu. Your mouth will appreciate a soft diet, like soups, yogurt, or smoothies. Your dentist will also suggest skipping hot or spicy foods to avoid irritating the healing tissues. No matter what you eat, chew on the opposite side of your mouth from the implant.
5. Use a Straw
You might assume straws will be handy to use while your mouth heals, but you should avoid any type of suction. Drinking with a straw can prematurely dislodge the blood clot forming over the surgical site. If it comes loose too soon, it can cause a painful condition called dry socket. Drinking carbonated beverages can also increase the risk of irritation.
Don't let simple mistakes lead to unnecessary pain or complications. Follow your dentist's aftercare instructions for a comfortable, stress-free recovery.
About Dr. Cooper Owens
Dr. Owens earned his dental degree from the University of the Pacific School of Dentistry, where he was awarded a Health Professions Scholarship. He completed continuing education in advanced general dentistry to offer the latest solutions for tooth loss, including dental implants. If you're ready to replace your missing teeth, contact our office today to schedule your consultation.
Comments Off

on What NOT to Do After Dental Implant Surgery
No Comments
No comments yet.
RSS feed for comments on this post.
Sorry, the comment form is closed at this time.