October 18, 2021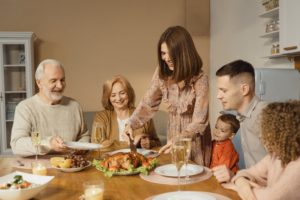 After not being able to gather with friends and family last year from the COVID crisis, the upcoming holidays are a reason to be excited. While you count your blessings, you have a few more than usual to add to your gratitude list because you've replaced your missing teeth. Here are 5 reasons to be thankful for dental implants as you celebrate the holidays with your loved ones.
1. Look and Feel Your Best
It's easy to feel embarrassed by an incomplete smile, but you don't need to avoid showing your teeth in family photos anymore. A dental implant is the only treatment to recreate both the root and crown. This provides a nearly perfect replica of your natural smile. No one will be able to tell your dental implants aren't your real teeth, so you can focus on making new memories.
2. Enjoy Your Favorite Foods
You won't have to skip your favorite dishes during holiday meals. Your dental implants have the support of your jawbone, so you'll never need to worry about any slipping or irritation. You have regained up to 70% of your biting force to enjoy a variety of foods; however, your implant dentist recommends avoiding those that are hard or sticky. Don't forget to cut your foods into smaller pieces to make them easier to chew.
3. Preserve Your Natural Smile
Replicating the root of your tooth stimulates your jaw to stop bone loss. A strong jawbone provides any natural teeth with the support they need to stop dental drift. You'll preserve any remaining teeth, while also benefiting from a youthful smile. Dental implants support your facial tissues, so you'll even look younger for the holidays.
4. Feel Comfortable in Everyday Situations
You don't need to feel anxious when chatting with friends or sharing a meal. Your new smile will never fall out, slip, or affect your communication. You can smile confidently and speak clearly in everyday situations because your new teeth have the security of your jawbone.
5. Peace of Mind for the Future
Unlike traditional bridges and dentures, dental implants are proven to last for 30 years or longer with the proper care. You have added peace of mind, knowing your smile can thrive for decades to lower your future oral health expenses. You can ensure your investment lasts by committing to your oral hygiene at home and visiting your dentist every 6 months for a cleaning and checkup.
Smile Brighter for the Holidays
As you take part in the festivities of the season, show your dental implants a little appreciation. You'll make this year one to remember, thanks to your new smile.
About Dr. Cooper Owens
Dr. Owens earned his dental degree from the University of the Pacific School of Dentistry. After serving as a dentist for 6 years in the USAF, he completed additional training in advanced procedures, like dental implants. He strives to help his patients achieve their best smiles using the latest innovations in dentistry. Contact our office today to schedule an appointment.
Comments Off

on 5 Reasons to Be Thankful for Dental Implants
No Comments
No comments yet.
RSS feed for comments on this post.
Sorry, the comment form is closed at this time.