June 17, 2021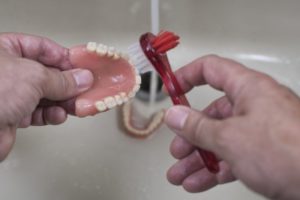 After investing your money and time into restoring your smile with dentures, it makes sense that you're wondering how you can make them last longer and continue functioning as best as they can. You won't be able to take care of your dentures like you would your natural teeth. Instead, they require unique maintenance that's important to stay on top of to prevent them from becoming damaged, discolored, or causing other oral issues. Read on to learn whether you can brush your dentures while they're in your mouth and a variety of other care tips for your new teeth.
Can You Brush Your Dentures in Your Mouth?
As easy as it would be to be able to clean your dentures like your natural teeth, it's not as effective as removing them and cleaning them. Not only would it be difficult to brush your dentures while they're still in your mouth, but you would miss cleaning the underside of them and your gums. Food and debris can become trapped in these areas and cause sores and infections to develop that can make wearing your prosthetic uncomfortable. Instead, take them out after each meal to clean them, being sure to clean all crevices of the denture as well as your gums.
Why is Denture Maintenance Important?
If you aren't diligent about cleaning and caring for your dentures, it could lead to a variety of oral and aesthetic issues. Some problems that could arise by not cleaning your dentures and gums regularly include:
Oral and systemic infections, like MRSA and pneumonia
Discolored dentures
Oral sores
Discomfort while chewing and speaking with dentures
Gum inflammation
With a daily cleaning plan in place, you'll be able to keep these problems from arising and get the most out of your investment in dentures.
Helpful Tips to Care for Your Dentures
Here are some helpful tips to follow when it comes to cleaning and maintaining your dentures:
Always rinse your dentures after each meal or snack to keep bacteria from lingering in your mouth.
Use special denture brushes and cleansers to clean your dentures without damaging them.
Don't forget to brush your gums, tongue, and the roof of your mouth each time you clean your dentures.
Take your dentures out every night before you go to bed and soak them in room temperature water.
Always rinse your dentures before putting them back in your mouth.
If you have any concerns about whether you're taking care of your dentures properly, don't hesitate to reach out to your dentist and ask for help. They'll be able to provide you with proven tips and tricks to keep your prosthetic functional and looking great for years to come.
About the Author
Dr. Cooper Owens is passionate about helping his patients maintain smiles that are functional and beautiful, so they don't have to choose between maintaining good oral and overall health and their confidence. He has completed advanced training and is an active member of professional organizations. Learn more about restorative treatments and denture care by visiting Cooper Owens, DDS Family & Cosmetic Dentistry's website or call 440-466-4884.
Comments Off

on Can You Brush Your Dentures Like Your Natural Teeth?
No Comments
No comments yet.
RSS feed for comments on this post.
Sorry, the comment form is closed at this time.