Implant-Retained Dentures – Geneva, OH
Transform Your Denture with Modern Dental Implants
While a denture can be quite effective at replacing several or even all missing teeth, they only address half the problem. With an implant-retained denture from our dentists, Dr. Owen and Dr. Frazee, you can make your denture truly stable and reliable for many years to come and experience the benefits that dental implants have to offer, including root replacement. Call our office to get started!
How Do Implant-Retained Dentures Work?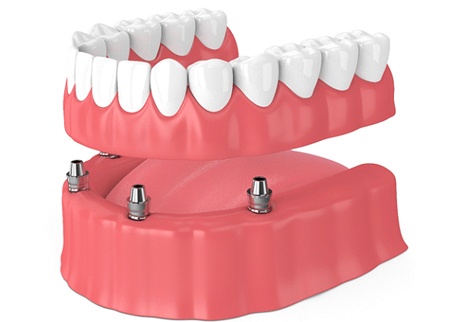 In contrast to traditional dentures, which rely on the shape of your mouth and natural suction to stay in place, implant-retained dentures attach to a series of implants surgically placed throughout the jaw. Implant-retained dentures typically snap in place, which means you can easily take it out for cleaning.
Am I A Candidate for Implant-Retained Dentures?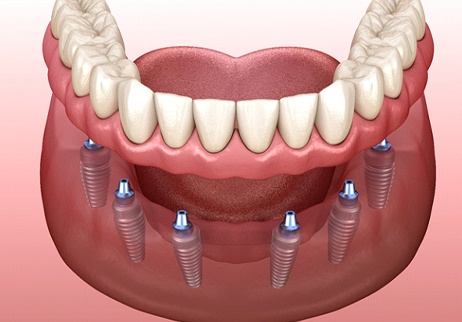 If you're considering implant-retained dentures, the first thing you should do next is schedule an in-person consultation. The good news is more patients are eligible for dental implants than ever before. However, you'll still need to complete a detailed evaluation of your current smile and bone health before dental implants can be placed with confidence.
The Implant-Retained Dentures Procedure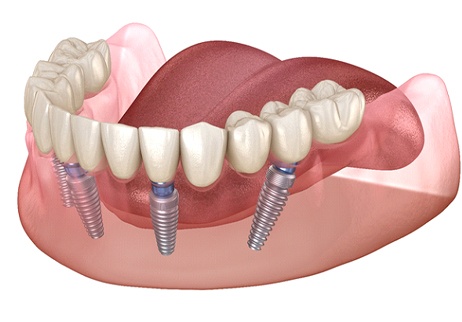 After the planning phase of treatment is complete, our office will schedule you for dental implant surgery, which can be done right here in our office! This involves making a series of small incisions in your gum tissue, creating tiny holes where the implants will be housed, and placing the implants into the jaw.
From there, the gum tissue is stitched close and given time to heal. This process (known as osseointegration) takes about four to six months. During this healing phase, you'll wear a temporary denture, so you can keep your smile while you wait for your permanent version!
Benefits Of Combining Dentures & Dental Implants
A significantly improved biting strength
Rejuvenated bone tissue and improved facial esthetics
Thirty years or longer of reliable use
No more slipping and sliding of your tooth replacement
A natural-looking (and feeling) denture